Canine Diabetes
A Challenge for Dog Owners
I am going to write about Canine Diabetes a very important issue that touched me and the life of my lovely poodle Gingy.

Symptoms and Diagnosis

She was always very happy and active doggy until one day when I started to notice that something is going wrong with her. I saw her drinking more water than usual, she started to urinate more frequently and not only outside the house, she started to pee all over the house including one day in my own bed. That day she was very upset and sad and I started to realize why on the last few days she was sleeping so much, she was lethargic, and in general I saw her very weak.

She was 7 years only.....I felt that something wrong was going on with her.

I rushed with her to my Vet.Dr.Canino almost crying thinking that she had something very bad in her kidneys. Immediately he started with a complete physical examination and lab tests in order to diagnose the problem.

Those are the words I heard him saying:

Aliza, Your doggy thanks God has nothing wrong with her kidneys. But maybe it will be heartbreaking for you to hear that Gingy has Canine Diabetes Mellitus. We are very lucky that it was detected early and it is definitely treatable.Diabetes Mellitus is characterized by a deficiency of insulin, the hormone that plays a critical role in sugar metabolism, and this is the most common type also known as IDDM.

There is no cure for diabetes, but it can be managed, especially if detected early and you keep attention to the symptoms.

The treatment will be daily injections of insulin and a proper diet; there are no oral medications available for animals. The Veterinary will show you the proper way to administer the treatment and provide you with a time schedule and instructions for you to follow up.

Click here to Share your Story



Dr. Carlos Canino with our Gingy


---
---
Causes of Canine Diabetes in Dogs
This Diabetes mellitus is generally developed at an age between seven and nine years. I heard that reproductive hormones may place unsprayed female dogs at higher risk, but this was not the case in Gingy's condition, she was spared at the age of 6 months.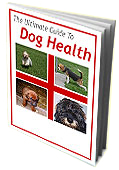 One of the principal causes for this condition is associated with obesity through over feeding or a high fat and sugar diet. I am sure this was the cause that my miniature poodle got the Canine Diabetes.
I felt very bad and I think I have learned the lesson.
Now is time to appreciate and educate myself and be responsible for the daily care of my great companion poodle doggy Gingy. .
Diabetes in Dogs is NOT a Death Sentence!

What is Canine Diabetes?
Diabetes is a disease of the pancreas that affects the body's ability to control its blood sugar levels. The pancreas is responsible for producing a hormone called insulin which keeps blood sugar levels balanced.
With diabetes, the body either produces insufficient quantities of insulin or does not utilize insulin effectively. Glucose then builds up in the bloodstream and causes an elevated blood sugar level.
Managing Dog Diabetes
The primary way of managing dog diabetes is through proper diet and good eating habits, just as with people.
Insulin is the treatment of choice for diabetes mellitus in dogs. Insulin must be given by injection because it is a protein and would be digested in the intestine.
I decided to follow the instruction from my Vet and give Gingy the prescription and the veterinary diets that can be used together with her insulin therapy, such as Waltham Canine High Fiber, Hill's w/d or r/d. and Purina Veterinary Diets- DCO- Dual Fiber Control.
Most Dog Lovers really have no idea just how much sugar and carbohydrates are contained in most of the manufactured pet foods.
Avoid foods that contain Sugar, those soft moist foods that come in cellophane packages are the worst. If you have to feed your Dog with Commercial food, please switch to a high-quality canned food and read very carefully the ingredients on the label. Please be aware that carbohydrates are converted into glucose by the body and this is SUGAR.




---
How to do just about everything about your Pets
! Great Source of Information and Great Pet Articles
---
Raw Natural Food (Fruits and Vegetables)
There are many opinions that the best Food Diet is a raw food. I am using this only to provide some snacks to add to her Diabetes Diet and only fruits or vegetables, I understand that this type of snacks are ideal in providing vitamins and nutrients and in helping to keep blood sugar stabilized., But please don't include fruits with the main meals, as the fruit could ferment in your doggy's stomach when combined with meats, grains and vegetables.
Beneficial Grains
Some grains are better when you try to keep your dog's canine diabetic diet under control. You can add Rice or Brown Rice or Oats that are the best choices to help regulate insulin levels and provide fiber. But it's best to keep in mind that all grains are carbohydrates which the body turns into glucose to use for energy.
Diabetic Poodle Feedings
Feeding a Diabetic Dog should be done with 2 to 3 small meals a day instead of one large meal. In this way you will help your dog to balance blood sugar trough the day, rather that changing the levels of sugar radically.

Hypoglycemia
In canine diabetic animals treated with insulin there is some risk that hypoglycemia may occur. It is most likely to happen if the animal ate her morning meal and over-exercised or is accidentally over-dosed with insulin.
The first noticeable clinical symptom is hunger followed by lethargy and sleepiness.
The best treatment is by offering food, particularly glucose containing foods such as biscuits. If she is unable to eat, then Honey or glucose must be administered by mouth or by intravenous injection.
Dissolved glucose powder or syrup will be absorbed quickly through the mucosa if poured into the side of the mouth. It is not necessary for it to be swallowed.
It is convenient to carry HYPOSTOP or GLUCOSE 45 are a 40% dextrose gels that can be easily administered orally. There are also 20 and 40% dextrose (a form of glucose) solutions available for the veterinarian to use in emergency treatment.
It is rare for a dog to die of this condition but it is possible. Owners should be appropriately warned and trained by the veterinary team responsible for their pet's health management.
Medical Alert Tag for Canine Diabetes Dogs
Most of the companies that manufacture pet tags, offer a medical alert tag. In case of an accident, or your pet getting lost, this alerts the finder of the medical condition. It contains the number of your veterinarian so the finder can contact them.
It is a good idea to denote on the tag that the owner will pay all medical expenses. This will let the finder know they are not obligated to pay the medical bills for the animal, ensuring your pet gets the proper medical attention.
Pet sitter with knowledge of Canine Diabetes
If you have to leave your pet for a long period of time, make sure you have a care taker who can give injections and recognize the symptoms of Hypoglycemia.
Some professional pet sitting services offer this knowledge, well as diabetic friends or family.
Make sure you leave the sitter with phone numbers to get in contact with your veterinarian. Your best choice is to leave your pet at the veterinary clinic, or at the home of a qualified employee of your veterinarian.
Please click here for specific Instructions when you have to leave your doggy whit a Pet Sitter.



Your Care Cost for Canine Diabetes
Having a Sick Dog is costly, but is worthily. Taking the right care and giving all your love, you will have a normal doggy that will live exactly the same time as a normal healthy dog.
Please give him a quality of Life - Your Companion deserves it.Listed below are some supplies that you must have to properly care for your pet, and some that are nice to have. Must have:
• Glucose Test Strips for Urine • Insulin• Insulin Syringes • White Corn Syrup • Sharps Container• Proper food prescribed by your veterinarian• Medical Alert Tag • Proper Medical Care (from a veterinarian)• Pet sitter with knowledge of Diabetes
Nice to have:
• Housebreaking Pads or Depends Pads • Large Syringe (without needle) • Insulin Travel Pack• Blood Glucose Meter • Lancing Device and/or Lancets• Insulin Protector/Case Spare Bottle of Insulin
"The information on this site is general, and should not be used as a substitute for advice from your veterinarian."
"Questions concerning your pet's health should be directed to your veterinary "


Visit Our Poodle Gift Page !! Pamper your Doggie!!!

!! Visit our Poodles Books Page !!! You will Love It !!!!


Have you experienced diabetes in your pet?
Please share with us your recommendations for the good of our readers and their sick doggies
Click below to see contributions from other visitors to this page...

Sugarbear My Poodle His is soooooooooooooooooooooo precious!!!!!!!!!!!!!!!!  Not rated yet
Sugarbear is an adorable black toy poodle. He is opinionated and has influenced my husband, brother in law and of course myself to A: put up a 6 foot fence,...
Ms. Blythe Gergely  Not rated yet
my cockapoo Ari was diagnosed with doggie diabetes not but two months ago he was 10 he has always been very active and playful like a puppy his whole life....
If you are looking for more information about canine diabetes please go to:Canine Diabetes Org


From Canine Diabetes go To Canine Diabetes Instructions

Go To Le Poodles Guide Home Page