Choosing a Dog
Let's find answers to a few questions
When choosing a dog you have to think that owning a Dog is not just a privilege, it is a responsibility. These adorable animals depend on us for every single need, being food and shelter some of them.The excitement your dog shows when you come home, the wagging of the tail at the sound of the leash being taken from the hook and, the one I like the most, when she puts her head on my lap, are only a few rewards of owning a dog.
When to bring to your home you will have many questions to answer.
First question is which breed? There are so many to choose from. But since my love is the poodles I will dedicate this site to this breed only.In the following pages I will try my best to explain all I know concerning my lovely poodle.



Our unforgettable Gingy was an apricot miniature poodle


Cute Poodles with their friends waiting for dog treats

Click here to Share your Story


Dog Breeds
Please take into consideration when choosing a dog, the difference among the doog breeds. Some like the poodles require lots of dedication and time.
Grooming the poodles is budget by itself. You have to walk it several times a day.You have to decide if this is the breed for you as it was for me for so many years.
• Puppy or adult
First let's talk about the environment where you live. If you live in an apartment you should consider a Puppy Poodle when choosing a dog.
It's true the puppies need special attention and a lot of patience, but at the end you'll get the deserved gratification for your work.
Because you will train your puppy from scratch and it will grow without bad manners that an adult dog may bring from some other place. As for the apartment I recommend a Toy Poodle o a Miniature Poodle.
But, if you live in a big house you can go for a Standard Poodle that are great companions.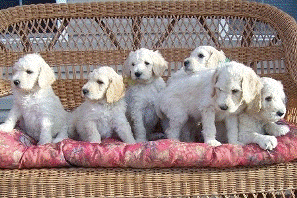 Lovely Standard poodle puppies


• Male or female
There are no studies or evidence that a male is more intelligent than a female and viceversa. I think this is a personal decision. Here I will give you some points for you to consider and make the right decision for you.
* It is more expensive to spay a female than to neuter a male
* Female dogs are supposed to be easier to train that the males.
* Female dogs are likely to be more docile
* There are mixed opinions on whether the female is more affectionate than the male
* A female dog can hold the need to urinate as long as 12 hours, that's great for working people and when nobody is at home during the day.
* When walking the dog the female usually empties herself only once, while the female may do it many times.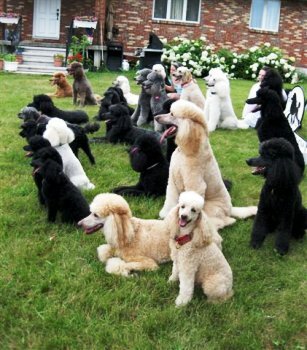 • Poodle colors

Many people have color preferences although color is not so important for others. The good news about poodles is that they come in such a variety of colors that there is always one for every taste.

The colors are: Apricot, Cream, Red, White, Brown, Cafe au Laite, Black, Blue, Silver, Silver Beige and many more spectacular combination.

• Poodle mix

Labradoodle Puppies

There has been a big demand lately for Poodle mixed breeds,also known as Hybrid (a mix of two breeds). They are very popular because the poodle contributes to the mix many of its qualities). They are excellent dogs. I will talk in more detail about all the possible poodle mixes.

• Dog finder
When you already decided for a poodle is very important to find as much information as possible about that breed. In our pages you'll find it. So keep visiting us.Choosing a Dog is a great challenge.
Poodle breeders
To find a reputable poodle breeder you can get referrals from your veterinary, from your friends and neighbors. Also contact a local breeders club and attend the dog shows of your community.
• Dogs for sale
You can acquire your poodle through a reputable breeder. You can find one in many of the Pet Stores in your community. There many rescues and Non-Profit Organizations. And maybe from an individual owner that for some reason cannot take care of the dog.
• Poodle facts
Regardless of size, standard, miniature of toy the poodle's appearance is the same.Here are the differences that will help you to choose your poodle.

Breed Group Standard Poodle : Non-Sporting
Miniature Poodle : Non-Sporting
Toy Poodle : Toy
Size
Standard Poodle : Medium
Miniature Poodle: Small
Toy Poodle: Small
Height
Standard Poodle : 15 + inches
Miniature Poodle: 11-15 inches
Toy Poodle less than 10 inches
Weight
Standard Poodle : 45-70
Miniature Poodle: 15-17 pounds
Toy Poodle : 6-9 pounds
When you decide choosing a dog you can read more information in the following pages.

Recommended Partners
My site is all about poodles, but there is some really helpful information about for your family on the website. Check them out!


---
---
Have A Great Story About This Topic?
Do you have a great story about this? Share it!
Visit our Page Poodle Books and More ! You can learn a Lot!!!

Visit Our Poodle Gift Page !!! Pamper your Doggie !!!

Poodles Calendars and More


From Choosing a Dog Go to Dogs for Seniors

Go to Poodle Adoption

Go to Le-Poodles-Guide Home Page>