Standard Poodle
!!If you Ever owned a Standard Poodle no explanation is necessary! !
!!If you Never owned a Standard Poodle no explanation is possible!!
History

Breeds historians believe that they are descendants from a German water retriever called PUDEL, name that is used in Germany until this day.

The word comes from the German Pudel or pudelin meaning "splash" in the water. Nobody knows the exact origin but for sure is Germany and not France.

This was first called a separate breed in France, that is the reason they are called French Poodles sometimes.

This size of Poodle was breed to be hunting dogs and they still keep this instinct and remain proficient hunters.

The AKC started registering poodles in 1886.

The Standard Poodle sizes varies from 15 to 20 inches measured from the shoulders. They usually weigh less than any dog of the same size. They come in many colors to choose from.

Their coat is very dense and curly. The hair grows very fast and allows the grooming develop many styles and shapes.

From all poodles sizes this is the most popular to be exhibited at the dog shows.

This breed and size has a great nature. This trail and the fact they are non-shedding dogs make them very popular among children. They are also very sociable with other dogs.

Amazing Champions White and Black Poodles


Reputable Dog-Breeders
Finding a poodle dog breeders is very important if you are looking for reputation and credibility.
"Reputable dog breeders will never sell her dogs through a pet store."
He will ask you for an interview and make sure you qualify. He wants to know that the puppy will be with a responsible person or family that will provide the love and care that a puppy requires and will be a good match for your household. In the following pages I will try to explain and list how to identify a good dog-breeder
Please take the time to be a dog finder and to get a good and reputable breeder and you will thank yourself forever. !Remember that your dog will live around 12 to 20 years, so it is well worth investing some time now to make sure you are working with a breeder who breeds happy and healthy dogs.!

Dog Grooming
The greatest expense for poodles owners is keeping it well groomed. They require extensive grooming which I recommend to do it every six weeks, never more than eight.
In order to choose you preferred style o poodle clipart, you have to take into consideration your lifestyle, your budget, your living conditions and how often do you want your poodle groomed
The grooming for this size comes in three basic varieties: The Continental Trim, The English Saddle(sometimes referred to as The Lion Trim) and the Poodle clipart. In the following pages I will go deeply into the different styles and which one are required for Dog Show

Click here to Share your Story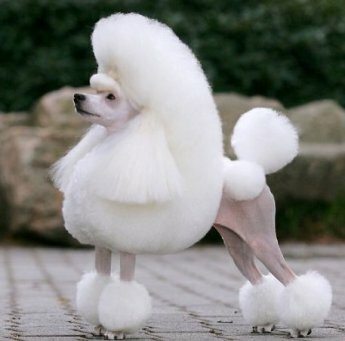 Poodle White Ready for Dog Show Competition


---
---
Standard Poodle puppies
Bringing home a puppie is very exiting and a lot of fun. Poodles are separated from their mother at nine to twelve weeks of age and this is when they are ready to go to a new home. This type of Puppies do well with children inside the house. They are very loyal and usually attached to one of the family members.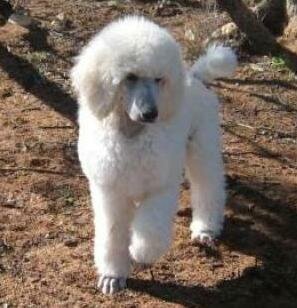 Lovely Standard Poodle Puppies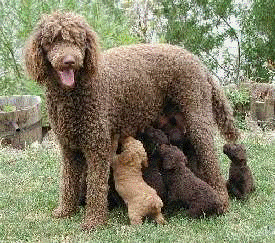 Puppies Brown with "MOM"





Visit Our Poodles Books Page ! You will Love It !


Have A Great Story About sharing your life with your poodle companion
Do you have a great story about this? Share it!


From Standard Poodle Go to Le Poodles Guide Home Page

Build Your Passion ! Build Your Future !Go and Visit My Siteseell !