About Us
Let me tell you about us. It was 1972. We were raising our three children in Puerto Rico. One day my little one, two years old at that time insisted he wanted a dog to play with. This is how we purchased a beautiful grey poodle puppy and brought her home to be part of our family.
We named her "Beauty", because my husband Eddy always remembered his childhood pet of that name.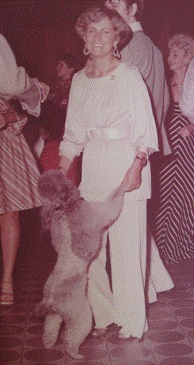 My lovely poodle "Beauty" was dancing with me


From the beginning my three children accepted the responsibility of training and caring for Beauty and our French Poodle became an integral part of the family and went with us all over. Many family pictures are silent witnesses to that.
She lived with us for 12 years until she got very sick of ovarian cancer.There was nothing more we could do and one day my husband had to take her to the vet and put her to sleep.
Only those dog owners that have been through this could understand the pain involved into this.


Welcoming our lovely puppy Gingy to our home

Life continued and we moved to Florida, now all our children are married and we are full of grandchildren. One day on our Wedding Anniversary my husband in strict conspiracy with our son, his wife and grandchild bought me a little apricot reddish orange poodle puppy that we immediately called Gingy (redheaded).
Gingy is ten now and despite that she developed Diabetes; she is on a diet and very well kept. She behaves like a young "girl", runs in the park and flirts with other dogs.
Gingy Today

In honor to her breed she is demanding and sometimes arrogant, but with good training she is also our friend and companion now that we are living in our empty nest.


Visit Our Poodles Books Page ! You Will Love It !

Go To Our Poodle Gift Page !!Pamper your Doggie!!!

From About Us Go To Le Poodles Guide Home Page