Crate Training Puppy Process
"Remember always that Puppies are small for only a short time"
Click here to Share your Story

Crate training puppy or adult will be an invaluable tool that will help you to do just this.

Confinement is not the same as a Crate Training Puppy;Temporarily confining your puppy dog to a small area as a bathroom, kitchen or any other small room in your home will strongly inhibits the tendency to urinate and defecate. But will not make the tool to make your life easier.

One of your first and big responsibilities as a dog owner is keeping your dog safe and secure.

If your lovable puppy poodle or any companion adult dog is having issues or problems with chewing, housebreaking, separation anxiety,or just can not be trusted when is out of your sight the best solution is a CRATE.

There are many different types of dog carriers and crates to choose from including ones made of wire and ones made of plastic. There is a crate for what ever your needs are including ones for traveling and dog kennels for house breaking your poodle or another dog breed.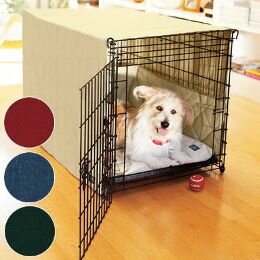 How can I introduce my puppy poodle to a crate ?
Just follow this few tips to start your crate training puppy process and you will see how you can be a real responsible dog owner and also the best companion for your cute companion puppy.
* First thing to do is to put the crate in an area of your home where the family spends most of the time, if you have a family room , this will be the best solution.
* Of course you have to put a soft blanket or a towel, I prefer a soft blanket.
* Prepare the crate with water, My suggestion is to find Spill proof Bowls or Bowls that attach to the kennel gate. This will be the best solution and will work best
*Be careful that the crate door is securely fastened open so it will not hit your puppy and frighten him.-
*Bring you puppy to the crate and let him go in and talk to him in a very nice voice.
*Drop just inside the door some food treats, preferably small ones and let him go, do not force him let him go by himself, you can continue to drop more treats or just toys until your puppy poodle will walk all the way into the crate to get them.
Be aware that this steps may take only a few minutes or as long as several days.
It Is Very Important "To Be Patience"
Have A Great Story About sharing your life with your poodle companion
Do you have a great story about this? Share it!


From Crate Training Puppygo to Puppy Crate Training Page

Go to Poodle Training Page

Go to Le Poodles Guide Home Page