Dogs for Seniors
Dogs for the Elderly
Do you know?
That dogs for seniors and elderly people are great companions with a lot of great benefits?
Everyday dogs bring love, laughter and companionship to elderly people all over the world.
A dog companion can offer a sense of well being, a sense of encouragement, and even a reason for living.
But before buying or adopting a new dog companion, elderly people need to understand the amount of dedication that goes into caring for an animal.
Seniors or elderly people have to think responsibly if they will have the time and the desire to care for a doggie pet, both physically and financially.

Click here to Share your Story


Being responsible for another life can add new meaning to any senior way of leaving.
Caring for and providing a loving home to a companion animal also helps elderly people to "remain active both mentally, physically and therefore stay healthy."
Seniors keep active by feeding, grooming and caring for their pets.
Companion Dogs for seniors get the elderly out of their houses and into the fresh air and sunshine.
Dogs give the opportunity to elderly owner to meet other people who he or she can talk with and socialize during they daily walking.
For years, it has been medically documented that companion dogs for seniors help people live longer and healthier lives.
Nursing Homes, social workers and home care workers recommend companion animals to help the elderly lead happy, healthy lives and give them independence and hope.

Studies and research also indicate a link between dog ownership and an increased survival rate for cardiac patients and also other potential health benefits can include:
Lower blood pressure, decreased stress, reduced bone loss, lower cholesterol levels, and improved blood circulation.
Studies shows that most of the people in the world are living longer lives these days and sometimes elderly people find themselves living alone because they have little contact with family and friends, or because they live far from any family.
Pets are good for all emotional and physical health and especially for sick and elderly people.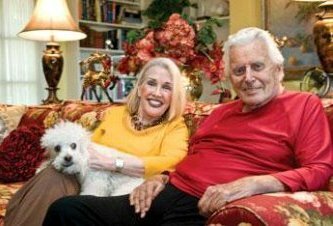 Pampering their Poodle


It's well known that relaxed, happy people do not become ill as often as those who suffer from stress and depression.
Companion Dogs for seniors accept their elderly owners as they are. They are devoted, very forgiving and extremely loving.
Dogs and in our case companion Poodles for seniors aren't just good friends, they are good medicine.
Adopting a New Dog
There is a way, however, for the elderly to find new meaning in their lives and this is why I suggest getting one by adopting their companion dog from a local shelter.
You may want to consider adopting an older animal however, rather than a puppy.
Older dogs are more likely to be calm, already housetrained, and less susceptible to unpredictable behavior.
Old dogs are often more easily managed by elderly persons than stronger, excitable younger animals.
Older pets still confer the same medical and emotional benefits on their owners as younger animals do.

It is very common that animal shelter staff can help potential adopters find the most suitable animal for their lifestyle, ensuring a great match between pet and person.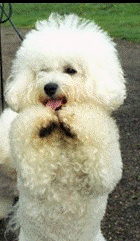 Toys and Miniatures Poodles may be ideal for weak or physically disabled individuals simply due to the fact that they are easier to handle.
You can give a small dog a bath in the kitchen sink without having to strain your back lifting the animal.
A toy or miniature poodle can sit in your lap while you are resting on the couch or sitting in a wheelchair. The friendly touch of a dog's nose will help the elderly feel safe and secure and gives them a sense of reassurance and satisfaction.
These companion poodle dogs for seniors love to stay inside the house and they need only the regular walking exercise, so exercise is often not an issue.
"Older dogs for seniors can make wonderful additions to the lives of the elderly by offering gentle companionship, lower activity levels and previous training."


Have A Great Story About sharing your life with your poodle companion
Do you have a great story about this? Share it!


The ASPCA (American Society for the Prevention of Cruelty to Animals) website lists signs of a responsible breeder. Some of these include screening stock for heritable diseases, keeping stock well socialized, does not breed the very young or very old, screens potential new owners, and offer help and guidance for new owners




Go To Our Poodle Gifts Page !!! Pamper your Doggie!!!



---
*******Visit eBay for your Poodle or Pet Supplies*******_
---


From Dogs for Seniors Go To Choosing a Dog

Go To Le Poodles Guide Home Page