Chihuahua Poodle Mix
Poodle Chihuahua Mix-Wapoo-Chipoo-Chi-poo-Poochi
Click here to Share your Story
The name for a chihuahua poodle mix is best known as a Chi Poo, it is not a purebred dog it is a cross mix between a Chihuahua and a Toy or Miniature poodle; Poodle Standard should not be used.
They are also Designer Dogs but are not as popular as many other crosses.
This chihuahua poodle mix is not recognized by the AKC, however it is recognized by the American Canine Hybrid Club, Wapoo- Chi Poo- Poochi are the other names for this great dog mix

Another element to consider is that there are two types of Chihuahua breed dogs.
The short coat (the most popular) and the long coat.
When creating a Chihuahua Poodle mix, it is the short haired Chihuahua that is most commonly used as the father and the Poodle has to be the Mother.
Not all the Chi-poos looks the same, I will post some pictures of different Chi-Poo images.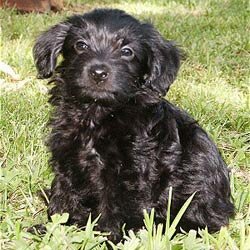 The ideal or perfect Chi-poo is a dog that posses a lively expression, is small in stature and very agile.

Weight has to be aprox. from 3-12 Pounds- (1.5 -5 kgs)Height has to be aprox. From 6-13 inches.-( 15-33 cms)

They can have the long ears of the Poodle or the erect ears of the Chihuahua.

Colors can be: White, Apricot Brown, Black and Fawn.





Chipoos are great for people with allergies, because they do very little shedding.

The Wapoo is an hybrid dog that is not recommended for homes with children under 12 years of age. They are very small and they can be aggressive by instinct to the fear to be step on very easy.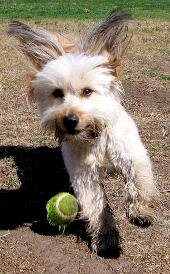 They are very affectionate, devoted and loving and they form a close attachment to one particular member of the family.
It is very important to know that this kind of cross breed do not do well if they left alone for many hours or periods of time and they can become destructive special if they fill bored or lonely.
They are very good watch-dogs because they are very suspicious of strangers and will alert their family owners from visitors or just out of ordinary sounds.
They do OK with other pets if they are part of the same houshold.
Because they are very small dogs they are barking guys, but with a good training they can be OK.

Care and Coat
It is more probably that the coat of the Chipoo is the Poodles one and the Body is the Chihuahua size.
The Coat can be curly, very smooth an long, or just a combination of both.
Depending on the coat type, the chi-poo requires frequent brushing and every certain time professional grooming.
Bathing can be done when it is necessary.
Training
As per all the breeds of dogs is recommended to offer them early socialization and obedience training.They are difficult to housebreak but a good training with patience and consistency and not with to harsh and heavy handed methods you will succeeded.

Remember, you have to buy your little Chihuahua Poodle mix puppy from a responsible and genuine breeder, who will sell you a mix cross puppy only after it is old enough, and who will be responsable and caring that you get an healthy Chi Poo.
!!!A Chi Poo or Chihuahua Poodle Mix is a Designer Dog and has to be treated like a king or queen.!!!


Are you one of the lucky persons to own a Poodle Mix Companion ?
Do you Have a Great Story to share with us about your Cute Poodle Hybrid Mix Companion?
From Chihuahua Poodle Mix Go to Poodle Mix Page