Puppy Crate Training
Click here to Share your Story

Puppy Crate training your new dog make take a time and a lot of effort, but can be very rewarded in order to live a long and safe life with your poodle puppy companion.
Always remember that Puppies are Puppies only for a short time !!!!!!!!
" Your job as a Dog Owner is to keep your dog safe and happy "
An efficient and effective way to house training a dog is starting with the Puppy Crate Training Process and if you properly train your puppy to use the crate he will think of it as his safe place and will be very happy to spend time and sleep there.
Crate training process also helps to teach your dog to have bladder and bowl control. She/he learns to hold it and go at convenient schedules time.
You have to understand that dogs don't like to eliminate in their resting sleeping quarters, if we give them the adequate opportunity to teach them where they can or cannot make their necessitates, your life with your poodle dogs will be easier.



My Miniature Puppy in her Puppy Crate


Another advantage of puppy crate training is when you bring your new dog or poodle puppy to your home you can use the crate to limit them the access to the house until they learn all the house rules such as what and where he/she can eliminate and what he/she can or cannot chew.
A Crate is also a safe way to transporting your poodles dogs or any kind of dog breed in the car, as well as a way of taking him in places where he/she may not be welcome to run freely.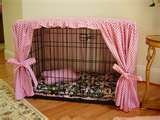 You have to buy an appropriate dog crate for your puppy companion,that will provide him with ample room to stand, turn around and lay down.

"This is why choosing the right size for your poodle dog is very important ."

Just remember the a Crate is not intended to lock your pet for extended periods of time, he can soils there and this will bring your crate training for a long period of time..

!!!!!To much time in the crate is not a good choice !!!!!

Puppy Crate Training is not a magical solution !!!

If not use correctly your lovable dog can be feel trapped and frustrated.

Very Important !!! Don't Forget to provide water to your dogie anytime is in the crate. My suggestion is to find Spill proof Bowls or Bowls that attach to the kennel gate. This will be the best solution and will work best.


Have A Great Story About sharing your life with your poodle companion
Do you have a great story about this? Share it!


From Puppy Crate Training go to Poodle Training Page

Go to Dog Crate Training Process

Go to Le Poodles Guide Home Page