My Lady
by Eleni
(Cyprus)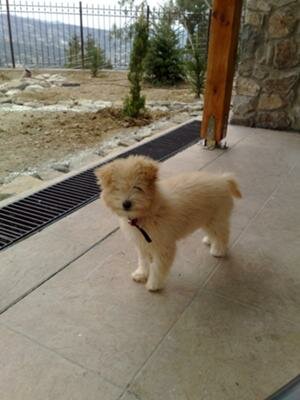 Goodbye little Lady, my little star, I love you so much
I was so against having a pet. I was already having two kids of my own and having a pet would add up to the pile of responsibilities. So every time my husband would suggest buying a dog for the kids I was totally negative. Everything changed when we went at a park and a little creamy fur ball came out of nowhere and was following us everywhere being everso friendly to the kids. There was no one around and it was clear that she was a stray. When we got into the car she ran as fast as she could behind us and finally since the whole thing was so heart breaking I told my husband to stop the car and let her in. And there the story goes. She was a mix poodle terrier but who cared about breeds? She was giving lessons of love to everyone. That two month little soul entered our lives and became so loveable to all my family and friends. My daughter named her "Lady". Our sweet little playful Lady. She was all sentiment. Needless to say I was the one taking care of her and sometimes I found my self being strict regarding her running into the house etc. But despite all, my heart had so much room for her to be in it. To cut the long story short one day I found out she had her period. She was about six months old and I called my vet suggesting spaying. He agreed and an appointment was made. It was just routine he said. Little did I know. That morning I took her to the vet ...He informed me that I could get Lady in the evening. And I waited for the phone call. Finally the phone call came. It was my husband informing me that Lady's heart didn't cope. She died as soon as the anaesthetic was given to her. That happened yesterday. I felt that someone crushed me down. That someone stubbed me. The pain is terrible. My older daughter is totally hurt and won't sleep alone at night.
I cannot stop my self from crying and remembering all those little moments of happiness we shared with her ...I'm so desperate regarding my next move. Hide her stuff away?..Get a new dog that looks like her? Never getting a dog again? I'm in a shock honestly speaking and the pain is unbearable to all of us.
Join in and write your own page! It's easy to do. How?
Simply click here to return to Poodle Mix.


! Whoever said you can't buy happiness forgot little puppies !
By Gene Hill

Dear Amazon.com Customer,
Customers who have shown an interest in pet products might like to know about our year-end deals on select Kitchen, Home & Pets products sold and shipped by Amazon.com.

Caring for Small and Toy Breed Dogs

Poodles T-Shirts and More....



Poodles Calendars and More....

Brain Baby !!!! Just for Babies !!!!