Yorkiepoo Guide
Yorkipoos, Yorkie-Poo, Yorkiepoo Puppies,Yorkie Poodle
Yorkiepoo is a mix-hybrid dog crossed from a Yorkshire Terrier and a Poodle.

This cross gives a smooth silky wavy coat with a well-balanced and proportioned dog.

Their coat is non-shedding so this makes good choice for allergy sufferers.

The coat can be wavy, curly, or straight and comes in all different colors.

The eyes are dark with a lively expression. They can be almond shaped or round and the nose must be black.

The ears may stand up like a Yorkie or may drop like a poodles. The feet are small and oval shaped.

It is very important that their coats should be brushed often to prevent mats.

Regular bathing, ear cleaning and possible plucking, along with nail trimming is required.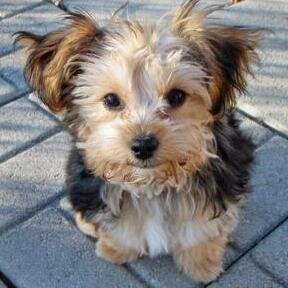 Yorkie Terrier Poodle mix-hybrid Dog


Click here to Share your Story

Yorkiepoo puppies are personable, playful, bright and spunky.They enjoy romping around with other pets, cats or dogs.
This poodle-yorkie mix can be a mix of both parents dogs.
It is friendly, self confident, loyal, energetic, brave, intelligent, playful, sweet, and loving.
Much like their Yorkshire terrier heritage, they are also brave and very loyal. Like their Poodle heritage, they are quite sharp and quick learners.
"What you get is a great small dog with the wonderful traits of two great dogs."
Very Cute Yorkie Puppies

Smart and capable, they are always eager to learn new tricks.
They love to play but at the same time they love to be calm and quiet, good mix of both.
Housebreaking is not as much of a challenge as it can be with a pure breed Yorkshire terrier.
Although this beautiful mix is easily trained they can be quite stubborn.
The mix of this two does well in an apartment or a house.

For them you are their world, they are happiest sitting on your lap or laying next to you.
The Yorkie-poo loves their family very much and would have their feelings hurt if left out.
This great poodle mix truly thinks that it is a big dog.
They may be small but can run very fast great to exercise and running with you.
Even though they are small in stature,the yorkie poodle mix makes an excellent watch dog.
"What you get owning a Yorki-poo is a great small dog with the wonderful traits of two great dogs."


Are you one of the lucky persons to own a Poodle Mix Companion ?
Do you have a great story about this? Share it!
Visit Our Poodle Books and More Page ! You will love it!


From Yorkiepoo Go To Poodle Mix

Go To Le Poodle Guide HomePage